February 26, 2016 - 2:15pm
Ted Cruz, Marco Rubio and Donald Trump
The 2016 presidential campaign has already been a somewhat long but definitely wild ride, with dueling debates, bad Photoshop jobs, talks of building walls along the Mexican border and even taking on the Pope. A lot of these political wars have been waged through social media, keeping voters on the edge of their seats, fingers ready to click the refresh button for the next bout of political drama.
Each presidential candidate has their own social media style. Many have ventured into previously uncharted territory, some taking on Snapchat to give a closer glimpse at day-to-day campaign activities. Others have used Twitter to attack naysayers and voice their political platforms. 
Here's a look at the social media styles of the top three 2016 GOP presidential nominees:

Donald Trump
Donald Trump's Twitter account is basically the antithesis of every other candidate's social media strategy. While some candidates try to interact with their followers and potential voters, Trump projects. 
In that sense, Trump's social media presence seems to exist solely as an outlet for himself. It rings more true to a personal account than a campaign account, with Trump voicing his opinions on his fellow presidential candidates. That's especially true on Twitter, where Trump has over 31,000 tweets. 
Trump's Twitter presence is biting, intense and sometimes humorous. Where other candidates might ignore naysayers and simply move on without acknowledging their comments, Trump wastes no time at attacking pretty much anyone who has a problem with him. 
He calls GOP candidates "lightweights." He attacks high-profile Democrats like John Kerry and former GOP presidential candidates like Mitt Romney. He's taken aim Florida's very own Republican consultants, Rick Wilson, calling him "weak and totally conflicted." Trump has even taken on Apple and the Pope himself during his campaign.
Trump's social media game is unapologetic and reads more like a TV show at times -- and whatever Trump puts out on the web, Trump is sure to have an audience.
On Twitter, Trump topples his competition, with 6.4 million followers. He has nearly 6 million "likes" on Facebook and one million followers on Instagram.
.@JebBush is a sad case. A total embarrassment to both himself and his family, he just announced he will continue to spend on Trump hit ads!

— Donald J. Trump (@realDonaldTrump) January 2, 2016
Truly weird Senator Rand Paul of Kentucky reminds me of a spoiled brat without a properly functioning brain. He was terrible at DEBATE!

— Donald J. Trump (@realDonaldTrump) August 11, 2015

Marco Rubio
Marco Rubio is running one of the more complete social media campaigns during this election cycle.
Rubio was one of the first candidates to create a Snapchat account for the 2016 race. In it, the Florida senator fills followers in with his various day-to-day whereabouts. It's a great behind-the-scenes tool for Rubio's campaign team and another way Rubio has been trying to reach out to younger voters, who fall more closely into Snapchat's target demographics. 
Rubio's social media strategy has fallen more in line with the "classic" methodology, much akin to what President Barack Obama used to reach out to young voters in 2008 and again in 2012. That type of outreach has become more commonplace in campaigning.
Rubio's tweets aren't really interactive, but unlike Trump, he does a fair share of retweeting. 
If there's any testament of just how much politicians are paying attention to social media these days, one of Rubio's most recent tweets features a
video of Rubio reading off Trump's "mean tweets," where Rubio reads tweets Trump posted on his fellow Republican candidate on Friday.
Rubio has over 1.2 million followers on Twitter. His Facebook page has nearly 1.3 million likes and his Instagram account has around 96,000 followers.
.@marcorubio reads #MeanTweets from @realDonaldTrump https://t.co/xBkDSmJL3c

— Alysha Love (@News_with_Love) February 26, 2016
Ted Cruz
Texas Sen. Ted Cruz is another candidate who has fully integrated himself into the world of social media. 
Cruz also dove headfirst into the uncharted territory of Snapchat during this election cycle, though his stories are not updated as frequently as other candidates'. Cruz, did, however, use this new social media platform to take a stab at Donald Trump, trolling the business CEO by setting up a special geofilter mocking Trump's absence from one of the GOP debates. 

#DuckingDonald featured a yellow duck with Trump hair and was available for a limited time at the GOP debate in Iowa.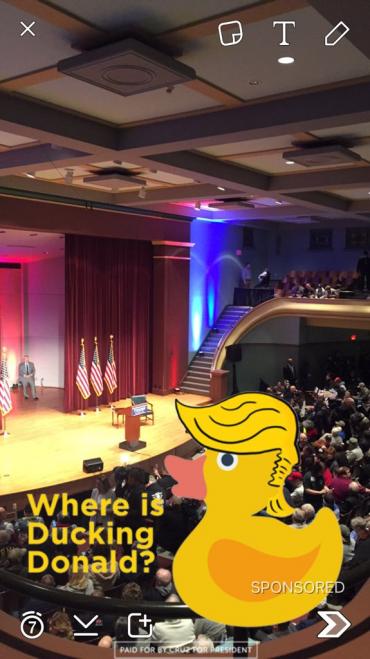 On Twitter, Cruz takes more policy-related stances instead of direct attacks, but he throws in a few jabs at some of his fellow candidates (like Donald Trump) on occasion. Cruz especially plugs his own website into his social media feeds, vowing he's the true conservative in the GOP race.
Get ready to cast your ballot on #SuperTuesday. Commit to #ChooseCruz: https://t.co/LhSVEXvnD1 pic.twitter.com/qfemq1NsnH

— Ted Cruz (@tedcruz) February 25, 2016
Ted Cruz currently has 1.9 likes on Facebook, 851,000 followers on Twitter and nearly 92,000 followers on Instagram, putting him nearly even with Sen. Marco Rubio in terms of total social media outreach on those networks.