Is it me, or has Senate Bill 10 just entered the Twilight Zone?
By now, I'm sure you all know about Wednesday's total revision of a total revision of the bill Senate President Joe Negron is trying to salvage to create a reservoir south of Lake Okeechobee. 
The bill overwhelmingly passed the Senate Appropriations Committee and is headed to the chamber floor. 
TCPalm columnist Gil Smart laments its downsized state, calling it "a shadow of its former self." He says, "instead of borrowing $1.2 billion to buy 60,000 acres, the state would use 14,000 acres it already owns, try to buy 10,000 more, and build a deeper reservoir."
OK, but what about the details in this thing?  We're looking at the second strike-all on a bill that ties the state up in debt for years. Shouldn't we at least know the basics -- like, what does it do to address the actual discharge problem? What about the septic tanks leaking nutrients that cause algae? 
Consider this: Senators at each of three committee stops for this $1 billion-plus, send-the-dirty-water-south proposal have heard a dramatically different bill. 
No bill the same. Different senators, doesn't matter -- same result every time. Each incarnation, usually filed only hours earlier, has senators giving a cheerful thumbs-up with one hand while scratching their heads with the other.
Am I the only one who feels uncomforable about that? Certainly not a committee member has complained that time is too short to come to the table prepared.
This is a complicated bill, no matter what version you're looking at. Even the experts -- the scientists and engineers -- don't get enough time to analyze each version, how can the senators love it enough to pass it on when its sponsors don't know for sure what part is in the bill and what part is covered in General Appropriations?
First version: SB 10 sponsor Rob Bradley's Senate Appropriations Subcommittee on the Environment and Natural Resources. That was in January. The bill authorized the issuance of bonds to raise more than $1 billion to acquire 60,000 acres of land and build the southern reservoir. Estimated cost: roughly $2.4 billion -- of which the state's share was half. The federal government was to match the other half. Experts did get time to study the first version, and maybe that's what Bradley, R-Fleming Island and Senate President Joe Negron, R-Stuart didn't like.
Second version: At the Senate Appropriations Subcommittee it was expanded during the meeting to include a "Coast-to-Coast Comprehensive Water Resource program" to provide "funding tools" for water protection programs across Florida. This version upped the bonding authority to $3.3 billion.
Third version: Wednesday. Oh, my. This is the one everybody loves because it supposedly doesn't take 60,000 acres of farmland out of production, creates a better economy for Glades workers who could lose jobs to reservoir construction and costs "only" $1.5 billion -- half to be paid for by the feds.
Really? Does it do all those things?
Committee members can be forgiven for asking lame questions or none at all. Twenty-four hours in the middle of session is barely enough time to review your email let alone a bill of this importance.
What members do know is, Negron, Bradley and newest bill cheerleader Jack Latvala want a "yes" vote on SB 10. And now it isn't just Negron you disappoint if you go negative -- Latvala is appropriations chairman. Who is going to cross the man with power over your purse?
The orchestration of the Wednesday meeting, frankly, was shameful.
Unless you were tipped by the bill sponsors, Wednesday's version didn't exist until Tuesday morning.
Environmentalists knew ahead of time, that was obvious, and came prepared with speeches. A spokesman for boat manufacturers, for example, showed up with a letter of support for the new bill with the signatures of 30 manufaturers. Admit it, that's mighty quick work, rounding up 30 signatures and making your way to Tallahassee in less than a day.
Groups like the James Madison Institute, whose director is J. Robert McClure -- out of favor with the SB 10 sellers -- told me Wednesday afternoon the institute is still "in the process of digesting the new version of SB 10." Their response shows they are trying to stay hopeful. 
"Over the past year, JMI has authored two reports specifically articulating practical policy reforms to help address the myriad of challenges present with Lake O and the surrounding communities," McClure told us. 
"The pivotal point to remember is this: we should take action to alleviate, as much as possible, the negative impact of massive discharges of water from Lake O before and during rain events. We are encouraged by the Florida Senate's efforts to hear concerns from all stakeholders and we hope that the ultimate policy solution will be in the right place, at the right time, for the right reasons." 
All members of the public who asked to speak at the meeting and all but one whose comment cards went on the record, waived in favor of the bill.
Some in the audience were opposed, but they told me later they either were unprepared or afraid of repercussions -- afraid of losing an appropriation.
It was a Joe Negron love fest. "He's put it all on the line, and the political courage he has shown is something we can all emulate," said Bradley.
Finally, Latvala said he was "tired" and had heard enough public comment. He did, however, allow one more speaker as the comment cards were going into the record -- Marshall Field, chairman of the board of the Everglades Foundation. Interesting choice for a finale.
Hopefully, senators will have a chance to give this wounded duck-of-a-bill a closer look before it's debated on the floor.
Maybe they can ask more about the septic tank appropriation and how that program will work. Not that long ago Negron wouldn't allow septic tank inspections let alone septic-to-sewer conversions.
Maybe senators can explain to Glades residents fearing for their jobs how they're going to work for an inland port when the Panama Canal expansion is behind schedule and other areas -- Indiantown in Martin County, for one -- is aggressively pursuing the same thing? What guarantees can the state offer?
Certainly farmers are hopeful. Danielle Alvarez, spokesperson for EAA Farmers, Inc., issued this statement after SB 10 passed Appropriations Wednesday:
"Today's amendment acknowledges what EAA farmers have said all along: a storage reservoir south of Lake Okeechobee can be accomplished within the existing footprint of state-owned lands without the need to acquire additonal farmland. However, an EAA reservoir will not solve the problems in the coastal estuaries. We will continue to work with lawmakers to implement real solutions to the coastal estuaries, such as the repair of the Herbert Hoover Dike, north of Lake Okeechobee storage, projects to address local basin runoff and aging septic tank conversions."
Maybe senators can find out from whoever drafted the bill how the Everglades Agricultural Area reservoir suddenly became part of the plan to handle coastal discharges? It was never meant to do that. Storage north of the lake was intended for that.
And if you alter the A-1 and A-2 reservoir footprint to the south, it has to be pulled off of CEPP and deauthorized; you'll be waiting for new authorization not for months but for years, and you will need more land.
But I guess that's OK, because the way the bill is written, if discharges aren't stopped cold, the state can come back for more land. Every time another discharge is necessary, theoretically, the state can shop for land. For farmers it's death by a thousand cuts.
And it won't stop the discharges, as we've said so many times before. What will do the most to stop them is the Lake Okeechobee Watershed Project. See the chart at the bottom of this page. Three alternatives are given in watershed plans. "ECB" refers to existing discharge incidents; "FWO" refers to future discharges under the plan, even without applying an alternative.
Any one of the alternatives here results in more than a 50 percent reduction of unwanted discharges to the St. Lucie estuary and even greater reductions to the Caloosahatchee. If the goal is to reduce damaging discharges, we have to look to the source -- north of the lake -- and follow real science and modeling that has taken place over the better part of a year. A political Bandaid will not solve the problem. It only continues to promote a false narrative that southern storage will fix the woes in the coastal estuaries.
 
Even if a fiscally conservative legislature suddenly is OK with bonding a $1.5 billion plan that partners Florida with the federal government -- when those in Congress have warned us against this bill -- the bottom line is this:  We should follow the science, the plans outlined in CERP and continue the momentum that leads to real success.
Next: Sen. David Simmons' Herbert Hoover Dike Amendment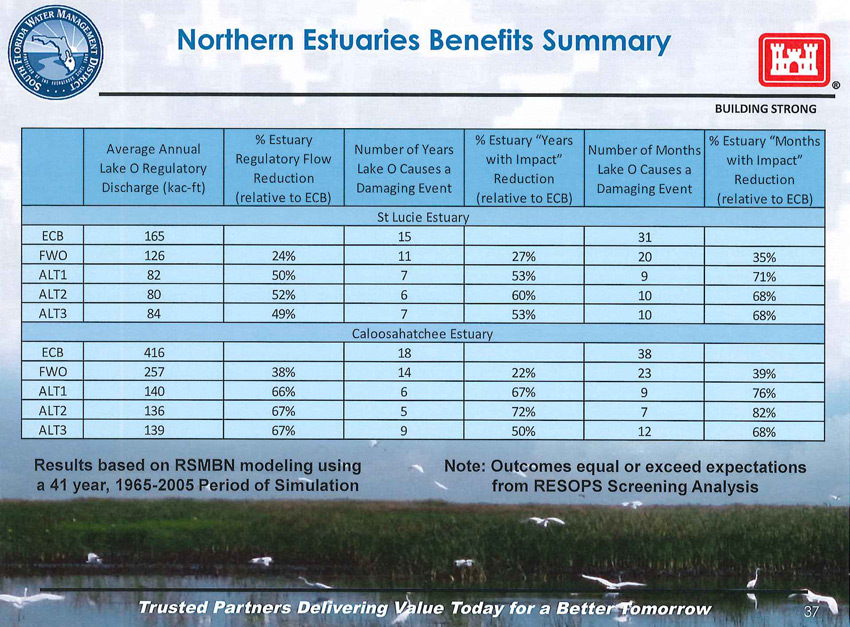 Reach Nancy Smith at nsmith@sunshinestatenews.com or at 228-282-2423. Twitter: @NancyLBSmith 
---
READ MORE FROM SUNSHINE STATE NEWS
'Humble' Lawson Formally Joins Supreme Court